DIY Modern Barn Door Closet by Shabyfufu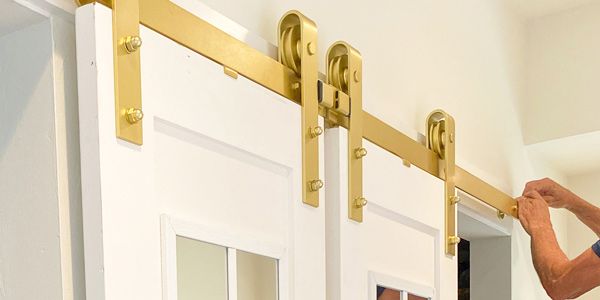 National Hardware partner, Janet, of Shabyfufu blog, was tired of looking at her dark and dreary closet space. The rest of her master was light, bright and modern while her closet was tucked away into the dark corner of her master bath. She not only created a functional space but added lots of bright light and a modern touch to her master suite.
Janet opted for the Designer barn door hardware kits in brushed gold to create her mirrored closet doors. Framed in a white and bright wood, the mirrors display a decorative accent to match her French coastal interior style. Using two kits, she was able to create a custom look that added light and function with the mirrored doors.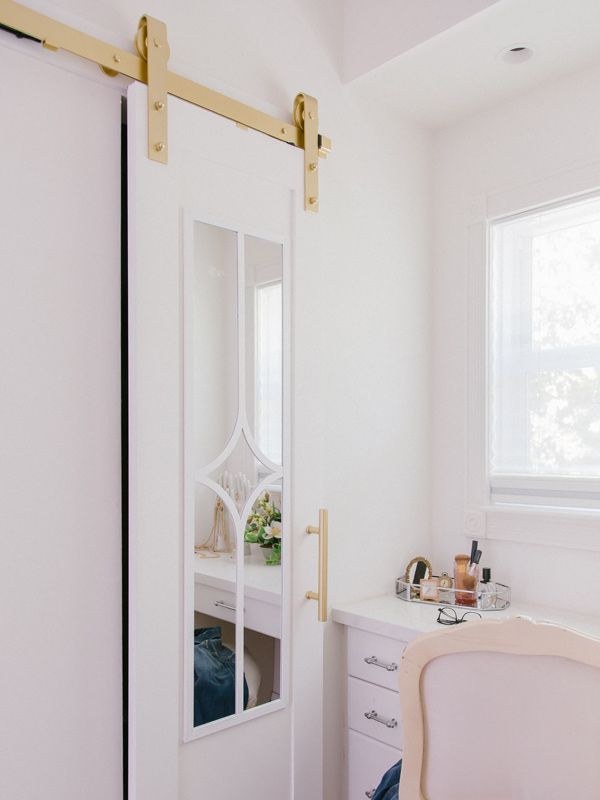 ---
"They are sleek and modern with the beautiful brushed gold barn door kits by National Hardware. Now I'm thinking…where else can we add another?!"
Check out how Janet and her husband built these custom doors for her dressing room on The Little Things blog.
---
About National Hardware
Hardware and Home Improvement (HHI) is a major manufacturer and supplier of residential locksets, residential builders' hardware and plumbing with a portfolio of renowned brands, including Kwikset®, Weiser®, Baldwin®, National Hardware®, Stanley®, Pfister® and EZSET®. HHI is a division of Spectrum Brands Holdings. HHI is a leader in its key markets with #1 positions in U.S. residential locksets (Kwikset), Canada residential locksets (Weiser), U.S. luxury locksets (Baldwin), and U.S. builder's hardware (National Hardware), and #3 in U.S. retail plumbing (Pfister). Headquartered in Orange County, California, HHI has a global sales force and operates manufacturing and distribution facilities in the U.S., Canada, Mexico and Asia. To learn more about National Hardware, visit https://www.national-hardware.com.