Meet Dawn Owen, Key Account Manager, out of Rock Falls, Illinois. She's been with us for over 23 years and says, "My desire to change the narrative around the status-quo in the builder's hardware industry while keeping our roots firm has always pushed me to try harder. I look forward to bleeding blue and thriving."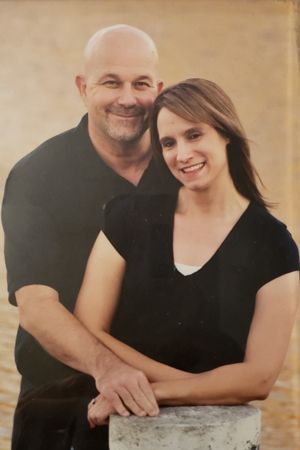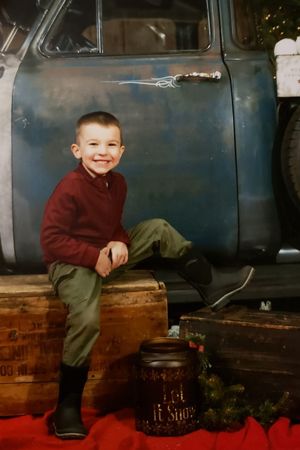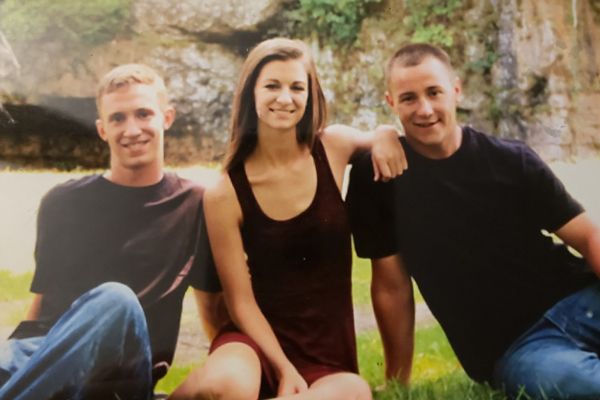 Top Left: Dawn and Denver
Top Right: Grandson Lucas
Bottom: Dawn's three kids: from left to right Blake, Madisen, and Andrew
Name, Location and Current Position
Dawn Owen, Rock Falls, IL, Key Account Manager

What year did you start with National and what was your first position?
In November of 1997 as a temp employee in the Health Benefits department. I was hired on full time on November 11th, 1998 in the Customer Service Department. I was one of the first people to receive a position in the office without doing time on the factory floor. I worked hard to learn the product quickly.
What makes your history with National unique (funny memory, turning point, proud moment)?
My career has been unique in that I have worked in several different areas of the company. Starting in Health Benefits to Customer Service, to the factory unloading trucks and driving a forklift, to the Return Goods Department, back to Customer Service, out in a territory in Colorado for National Hardware, back to Illinois for E & O Merchandising Coordinator, and Territory Manager for Kwikset and Weiser door locks. Finally, I ended up in my current role as the Key Account Manager managing Jeske Hardware Distributors, who is becoming one of our largest e-commerce distributors for National.

What has been your proudest moment so far?
I've had to fight for almost every single position I have had. I've worked hard to take care of my family, putting them first and it was not always easy. My desire to change the narrative around the status-quo in the builder's hardware industry while keeping our roots firm pushes me to try harder. So, while I am not sure about my proudest moment, my favorite part of the job is the friendships and relationships that you make along the way. It makes the job feel more like your living life than having to work every day.
What do you look forward to in the future with National?
I look forward to always flying the blue flag and thriving. I am excited to seeing us grow into the e-commerce space and watch the brand forge ahead for another 120 years.
What is your secret to success?
If you make Customer Service your number one goal in everything you do, you will be successful. I was fortunate to work for the best customer service department in the beginning of my career (a long side Mario Vivarelli – our longest National Employee – see his interview here) and some of the lessons I learned then are still used today.

Lastly, what is your favorite (new or old) National product?
This is a hard question because we only make great products, but I think the switch lock was my favorite. At the time, these switch covers were in many buildings across the US that prevented a light switch from being turned off or on in rooms that required lights to stay in one position for mechanical or technical reasons. It was the easiest add on item, it sat on the checkout counter had a working display and sold well.

Learn about the locks we sell today here: https://www.national-hardware.com/sc/locks-handles
---
About National Hardware
Hardware and Home Improvement (HHI) is a major manufacturer and supplier of residential locksets, residential builders' hardware and plumbing with a portfolio of renowned brands, including Kwikset®, Weiser®, Baldwin®, National Hardware®, Stanley®, Pfister® and EZSET®. HHI is a division of Spectrum Brands Holdings. HHI is a leader in its key markets with #1 positions in U.S. residential locksets (Kwikset), Canada residential locksets (Weiser), U.S. luxury locksets (Baldwin), and U.S. builder's hardware (National Hardware), and #3 in U.S. retail plumbing (Pfister). Headquartered in Orange County, California, HHI has a global sales force and operates manufacturing and distribution facilities in the U.S., Canada, Mexico and Asia. To learn more about National Hardware, visit https://www.national-hardware.com.