Meet Eric Gilbertson, Savage, Minnesota-based Senior National Account Manager. Eric has been with us for 21 years, following in the footsteps of his father and grandfather, who were also sales representatives for National Hardware.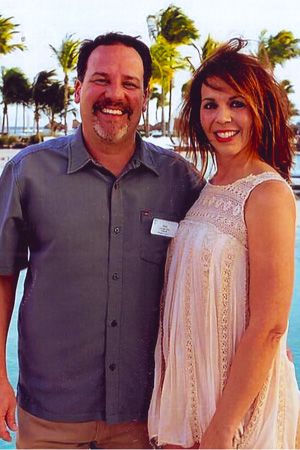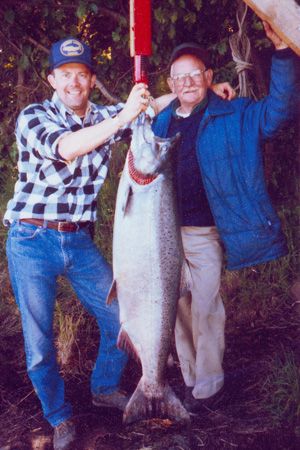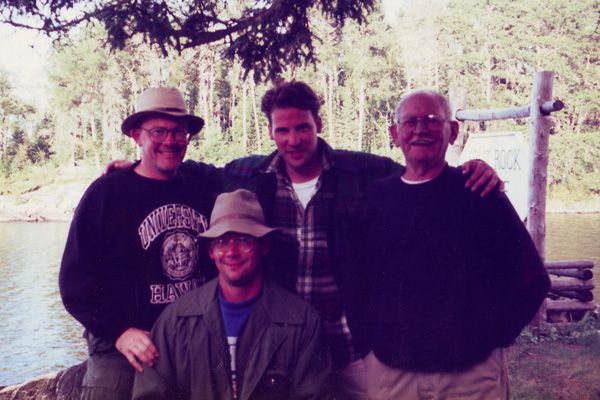 Top Left: Eric and his wife Jen
Top Right: Mel Gilbertson's famous catch
Bottom: Three generations of the Gilbertsons
Name, Location and Current Position
Eric Gilbertson, Savage, MN, Senior National Account Manager

What makes your history with National Hardware unique?
I am a third-generation sales representative for National Hardware. My grandfather, Mel Gilbertson, covered the Northern Minnesota territory, while my father covered the Twin Cities metro territory during the 70's, 80's and 90's. I have been able to call on the same customers my father and grandfather called on throughout the years. In some cases, as with L&M Supply in Northern Minnesota and Frattallone Ace in the metro, I was able to sell to the exact same buyers / owners they sold to. My father set the first National display with the help of Larry Frattallone in his very first location in 1975. Frattallone Ace has remained with National ever since, regardless of the move away from National at Ace hardware in 2004. Additionally, my grandfather ( a novice inventor at heart ) was featured in the January 1988 Do it Yourself Retailing trade publication after he caught a 5-pound lake trout and a 9-pound northern pike on his homemade fishing lure made from a National Hardware light strap hinge!
View Mel's featured article from 1988.
What has been your proudest moment so far?
After our business unit transitioned away from Stanley Black & Decker, I worked with our largest Stanley Hardware stocking wholesaler to transition Stanley Hardware out of our business between 2016 and 2018. We've seen positive growth for National ever since.

What do you look forward to in the future with National?
I look forward to the continued growth through brand recognition with our consumers vs. the legacy recognition from retailers and wholesalers. We continue to win the battle against our formidable competitors with support from our customers asking for National. This has always been supported by our excellent relationships in the field, in addition to fantastic social media campaigns in recent years. This will help cement National in the minds of the people who use our products every day to keep building better!
What is your secret to success?
Always thanking your customers for the order, no matter how small or large. Have transparency with your customer and build strong relationships. In fact, I considered one of my customers, Mike Ferrell as a mentor after building an ironclad relationship. I still keep in touch with him two years after retiring.

Lastly, what is your favorite (new or old) National product?
My favorite old product at National was a plastic V-Pac bag (our first V-Pacs were actually plastic bags that hung on hooks) with spearmint hard candy in them. These were packed in every order that we shipped to our customers!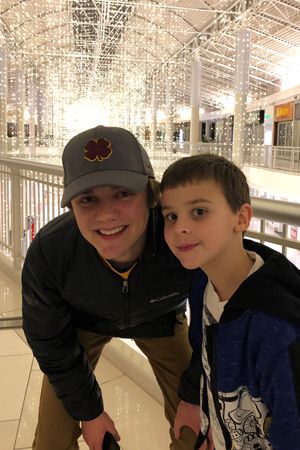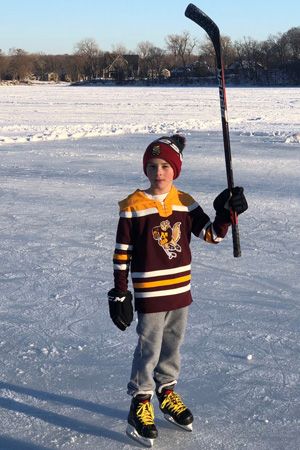 Left: Sons Noah and Liam
Right: Son Liam
---
About National Hardware
Hardware and Home Improvement (HHI) is a major manufacturer and supplier of residential locksets, residential builders' hardware and plumbing with a portfolio of renowned brands, including Kwikset®, Weiser®, Baldwin®, National Hardware®, Stanley®, Pfister® and EZSET®. HHI is a division of Spectrum Brands Holdings. HHI is a leader in its key markets with #1 positions in U.S. residential locksets (Kwikset), Canada residential locksets (Weiser), U.S. luxury locksets (Baldwin), and U.S. builder's hardware (National Hardware), and #3 in U.S. retail plumbing (Pfister). Headquartered in Orange County, California, HHI has a global sales force and operates manufacturing and distribution facilities in the U.S., Canada, Mexico and Asia. To learn more about National Hardware, visit https://www.national-hardware.com.