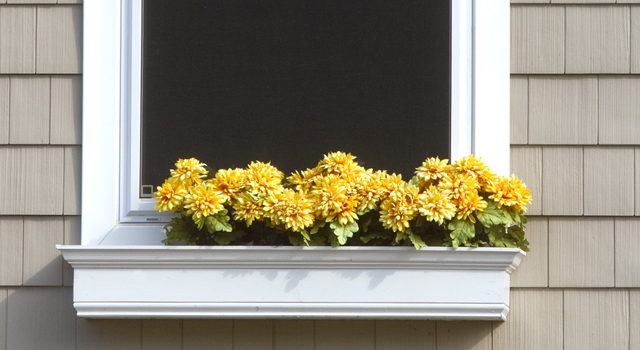 Flower Box Installation
Flower boxes are effortless additions to a home's curb appeal that bring fragrance and little pops of color and are extremely cost effective to build yourself. Install the flower boxes underneath a window, or on the front porch to accentuate a front door step or add color to a walkway. Stay on trend by turning them into edible gardens.
Get Started
Seasonal Options
Fall - Oranges, reds and yellows are traditional fall colors that stand out and help set the seasonal mood. Consider a fall-themed flower box featuring foliage bouquets.
Winter - Poinsettias are always a go-to option for the holiday season. The bold reds and soft cream whites stand out against homes of any color and style. Additional options include a collection of miniature noble fir trees and holly, or colorful lettuce heads in cool greens and purples.
Spring - Spring is the season for peonies, daisies and tulips. These delicate flowers come in a variety of bright, vibrant colors that can be mixed and matched for an eye-catching eclectic collection.
Summer - Whether you live in a damp or dry environment, succulents are an on-trend summer option that require little care and come in a variety of sizes, shapes and colors.
Build a Flower Box
Before getting started, head to a local hardware retailer and ask about affordable wood options that are suited for your weather conditions (cedar is a great choice!).
Request pre-sanded slats in the sizes outlined in this chart:
Quick Tip: Leaving space in between the support slats and the bottom piece allows water to drain and reduces mold, mildew and deterioration.
Instructions
Lay out one front/back piece and hold one end piece so that the two create an L. Use a drill to attach the end piece to the front/back piece.
Repeat steps one and two for the second front/back and end pieces.
Attach the three bottom supports to the interior of the first L, making sure that the supports are evenly spaced. Attach by drilling six holes into the front/back piece that align with the corners of each bottom support.
Now, flip over the frame so that the supports are on the bottom and attach the second L shape to make the box. Use a drill to screw in the two attaching front/back and end pieces. Then, use a drill to secure each support piece to the not-yet-attached front/back piece.
Slide the bottom piece into the box, and use a drill to screw and attach each support piece to the bottom piece.
National Hardware
Since 1901 National Hardware's focus has been on providing the best hardware and service to our valued customers.
Our Featured
Inspiration, Tips & Tricks